A trinity of recent dreams has afforded me a deeper awareness of nature and life, nature and life as we perceive them in this reality, nature and life as powerful beyond the ideals and hubris of mankind, and nature and life as eternal energy.
The first dream, which has recurred in some form or another throughout my life, since early childhood, depicts a barren, burned out landscape after some kind of bomb had fallen or fire has raged. Perhaps this dream first originated as a result of the cold war, when the illusive Iron Curtain was spoken of almost daily, the threat of attack from Russia as great as getting a simple cold. During my elementary school years we had frequent bomb drills, the way school children now have fire drills, learning to go into the hallway of the school building and duck down and cover our heads, or wind our way into the dark basement, hundreds of kids standing in the dark awaiting the threat of annihilation, just the push of a button away. Sometimes the nuns at my Catholic school were calm during these drills, at other times a heightened sense of urgency made the drill seem very real, the danger imminent.
Perhaps this dream of annihilation originated from within my own unconscious, teaching me something about myself, my true potential. In any case, I dreamed this dream again a few nights ago. It was the same dream as always. First, I notice that the earth is entirely burned to blackened cinders, nothing is left, it is totally razed, as if indeed an atomic bomb, a nuclear attack, or a huge firestorm has come through, completely wiping out every living thing on the entire planet. Not a twig or blade of grass remains, not a building or structure, not another human being. I am alone in this charred landscape.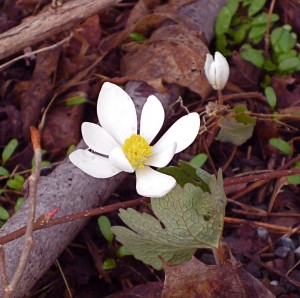 I am never frightened in this dream. As I stand and calmly gaze out over this barren landscape, understanding that I must somehow find the means to survive on my own, I begin to see the stirrings of new life. The earth at my feet begins to crack open and as I stoop down to peer closely at the ground I see tiny green shoots beginning to poke up out of the earth, life seeking light, nature regenerating itself from the most devastating of circumstances. Each time I have this dream I receive the same message: Nothing can destroy nature; life will always find a means of seeking its full potential, and that, no matter what happens, the seeds of life are always present, within me too.
The second dream I had took this idea one step further. In this dream, I am attempting to invigorate life energy in others, to inject enlightening ideas, literally using a hypodermic needle to inject positive life energy into people's arms. I knew that people were putting all kinds of things into their bodies in an effort to evolve, using all kinds of spiritual and mental processes and nutritional substances, but I saw how difficult it was for people. I wanted to help ease their sufferings. I knew that relief was only just an injection away. If I could just inject enough people with the right stuff the world would be a better place. It was not hubris or inflation on my part, just concern for the suffering of the struggling masses that made me want to help in whatever way I could.
In this dream, I was told to stop trying to control nature, that nature itself, within each human being on earth, would right itself, that everyone had the potential within to grow and find true alignment with nature, in their own time. The message was: Let nature take its course; it will come out right in the end, as it should be.
The third dream went again another step further. Now I had learned that nature was unstoppable, that it would correct itself when the time was right, but in this third dream I was asked to notice something else.
In this third dream, I am teaching a nature drawing class, asking everyone in the class to really look closely at the leaves and flowers and trees we are drawing, at the landscapes and scenes of nature that lie before us. In this dream, spring is in full bloom, everything is bright green, fully alive, perfectly beautiful, nice and neatly returned to pristine beauty after a long hard winter. The message here is to notice that even though the landscape has returned to a recognizable state, we must not assume that it is stagnant. We must not fall into complacency or take anything for granted.
"If you look closely," a dream voice tells me, "you will notice that everything is still growing and changing, that nature never stops!" I ask all of my drawing students to peer closely at the blades of grass, the leaves of lettuce and the tips of the branches before them.
"Look," I say, "everything is still in motion, always changing."
This is the message of this third dream: to not stagnate or assume that just because everything has returned to a semblance of normalcy that it's so. No, nature is doing so much more. We too have this same potential, this same life inside us. We are all in constant flux; like nature, our growing time is endless.
As we now face the truth of a rapidly changing natural world, as we continue to drill for oil and frack for natural gas, as we continue to send men into the depths of the earth to dig for coal that blackens not only their lungs but the air we all breathe, as we return to complacency after the recent natural events, saying that everything will take care of itself, we must look more closely at the decisions we make.
Yes, we must face the truth that we may destroy the earth, as depicted in my first dream. We must remember that we are the ones who have made the bombs that destroy nature, the nuclear power plants that hold annihilation at their core, with the potential to destroy the earth. We contaminate our water, the air, the earth we grow our food in. We do have the power to destroy and we may well be the generation that tips the scales. We may have to accept our part in annihilating ourselves. So what then?
Do we simply sit back and let that happen? Is that where we are now? Are we so disconnected from nature and our true interconnected potential that we will let that happen? Maybe.
Maybe we are the ones who will really change the world; we do hold that power, in a destructive sense, right now, at this moment in time, as well as in a positive sense if we so choose. But we do not have the power of nature to renew the earth. That power belongs solely to nature. We do not have the power to inject life, as I tried to do in my second dream, a false hope on my part, because real change and new life can only happen when people are ready to change and embrace new life. But we all have the power to make decisions to change, right now, so that our hubris does not destroy us and all other living things on this earth.
As in my third dream, if we observe the power of nature, use it as our guide, showing us that we are life itself, we are the energy of nature and life too, we are offered the opportunity to grasp that life will go on, in some form, with us or without us. Just as nature restores itself and changes constantly, in alignment with the energy of life itself, so do we have that same potential for unending life energy inside us. The final message of my third dream was that life is unending, that it never stops, that in some fashion it will keep going.
Yes, we must let nature take its course, but we must be in alignment with true nature, not with what we have done to her, not what we want to keep doing to her, curtailing nature to fit our needs. We must get in alignment with the fact that nature has the power to restore, but we must not be so accepting and complacent of this power either. We must wake up and read the signs of nature. She is asking us to change now and we must accept that we do have the power to enact change.
I do not accept that we are doomed, though it often feels that way. But I also feel that it is critical that we make personal and universal choices that uphold the truth of life.
Life is eternal, always changing and growing, in constant flux.
Seeking alignment,
Jan