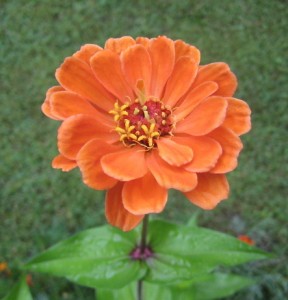 We work in the garden in the early morning, weeding and clearing the summer's growth. Time for fall plantings now. Time for a change. The energy is with us as we work in the early morning light, in the cool air and companionable silence. Our task done, we prepare breakfast and sit on the deck, content in our togetherness. Suddenly I have an urge. I want to go out to a restaurant that I like. It has a nice outdoor garden.
"Why don't we go there for dinner tonight?" I suggest.
We discuss the possibility. After a while it doesn't seem like the right thing to do. I acquiesce to the energy that says to take it slow, be patient, and stay put. It's a day to be calm and to rejuvenate.
We sit and read. The air is calm, the day sunny and still. The birds are busy around us. I hear a fluttering of wings overhead and a zinging sound, like a jolt of electricity. Something has just been caught midair, right above our heads. A bird flies off with something big in it's beak. I worry that it might be the hummingbird that had just hovered busily nearby.
We read for a few more minutes. Suddenly Chuck is restless. "I have such creative energy brewing inside me," he says. "I have to do something with it." I wonder if I can match it, if I can join him in this creative spurt, but no, my energy is utterly calm. I just want to sit and read. Chuck heads off to do some more yard work, shaping the hedges and ornamental trees, a good project for such energy.
While he works in the yard, I read and contemplate the energy of the day. A hurricane is brewing, and the Republicans are gathering for their convention, saying they will go ahead with it no matter what. I sense masculine energy stirring all around me. I don't get attached, but stay in my inner calmness. I remember my own pull earlier to go out into the world and do something, yet I know I made the right decision to stay at home today.
Soon Chuck returns, his energy spent. Contented and calm, he sits beside me and we enjoy a quiet few hours. The energy stirs repeatedly throughout the day, however, both inside us and outside us and we must make decisions about whether to acquiesce to it or wrestle it down. It just seems to be the way it is at the moment.
Things progress, the hurricane continues to gather energy, the Republicans begin their convention, the masculine energy continues to stir. Aggressive and controlling, I see it playing out in many instances over the next few days. Suddenly, I realize it isn't masculine energy at all that I've been feeling all around me, but feminine energy, the energy of nature, the creative unleashed.
My urge to go out to dinner was the romantic feminine stirring in me. The bird snatching food from the air above our heads was Mother Nature in raw form. Chuck's creative urge was also the feminine urge to give birth to some new creation. The feminine was stirred in us throughout the day, offering the possibility of new adventures, new desires, new experiences.
Now I understand the energy of the hurricane as it slowly amassed and headed into land as the creative force of the feminine unleashing, no man or woman able to hold such power back. This got me to thinking about whether or not we really have any control at all, over anything. Are we just fooling ourselves in thinking we make our own decisions? Are we all just subject to acquiescence, in spite of our best efforts to control and direct our lives?
I dream. I have no control in my dreams. The feminine energy of the unconscious emerges and takes me on nightly adventures while my ego is asleep. Ego is masculine; the controlling self in everyday life, thinking it has the upper hand, thinking it's in charge. But is it really? I don't think so. It tries hard, it asks me to conform and abide by its tenets, yet underneath other truths have been stirring for a long time now, truths that I have learned to pay attention to. And I know from paying attention to those inner truths that I am more like the hurricane, that I am nature, the creative.
We are all this creative force, yet we must be accountable for it within ourselves if we are to live as mature beings. I must not let the creative feminine energy rule me anymore than I let the masculine force rule. I must learn to acquiesce to each of them when appropriate so that I am not overwhelmed or controlled by either. This is where I believe we do have power, the power to gain balance over the powers within us that constantly seek expression. This is how we become mature spiritual beings able to flow in the universe.
If we allow ourselves to be overly controlled by either force, we are not only out of balance, but we are not our true mature and evolving selves either. We become automatons to the powers that be, to the outside energy and the inside energy. In order to gain equilibrium within, we must attentively weigh the energy outside of us, making decisions on how to act and how we want to be in the world.
Do I want to control everything in my life? No, I don't. I want to be available to flow with what comes, but I also know from previous experiences that I don't need to be taken over anymore either. However, it's appropriate at times to be overtaken, to allow both the masculine controlling energy and the unleashed feminine to teach us what we must learn. And so I have allowed myself to indulge in both kinds of energy, sometimes unknowingly and often intentionally. But there comes a time when it's enough. There comes a time for living in the world in balance, as a mature and whole being.
As human beings, we have the opportunity to make choices. We are surrounded by nature in the raw, we have it inside us, and yes, it can unleash at any time. But in mature balance we learn to detach from and attach to it as feels right. We make decisions based on what is right for us at the moment. We can choose to maintain the calmness and contentedness we have so desperately sought and fought for our entire lives.
In always saying no, we shut the door to life. In always saying yes, we leave it open to being overwhelmed by life. When in balance we offer ourselves possibility, the door always half open, and yet our choices become ones made in awareness, knowing what we are choosing and why. In choosing recapitulation—yes, I do have to mention it because it's my life's work and offering—we allow ourselves to gain the mature balance that leads to calmness, contentment, and access to the awareness of knowing what is right for us, at all times.
So, my lessons this week have been a growing awareness of what it means to be in mature balance, which is really a constant shifting in awareness, as if one were on a balance beam, making slight adjustments in inner balance to meet the outer energy that seeks always to upset the ego-dominated self. It's just the way it is; the job of the creative feminine energy is to make new life, both within and without, and new life only comes from disrupting stasis. We all need a jolt of raw nature every now and then to catapult us into new life.
Here's hoping that Hurricane Isaac, the feminine unleashed, doesn't do too much damage and that it leads us all to opportunity for new mature life. And here's to my lovely daughter who is living through it at this very moment, in her little house in New Orleans. May everyone be safe.
Sending love,
Jan